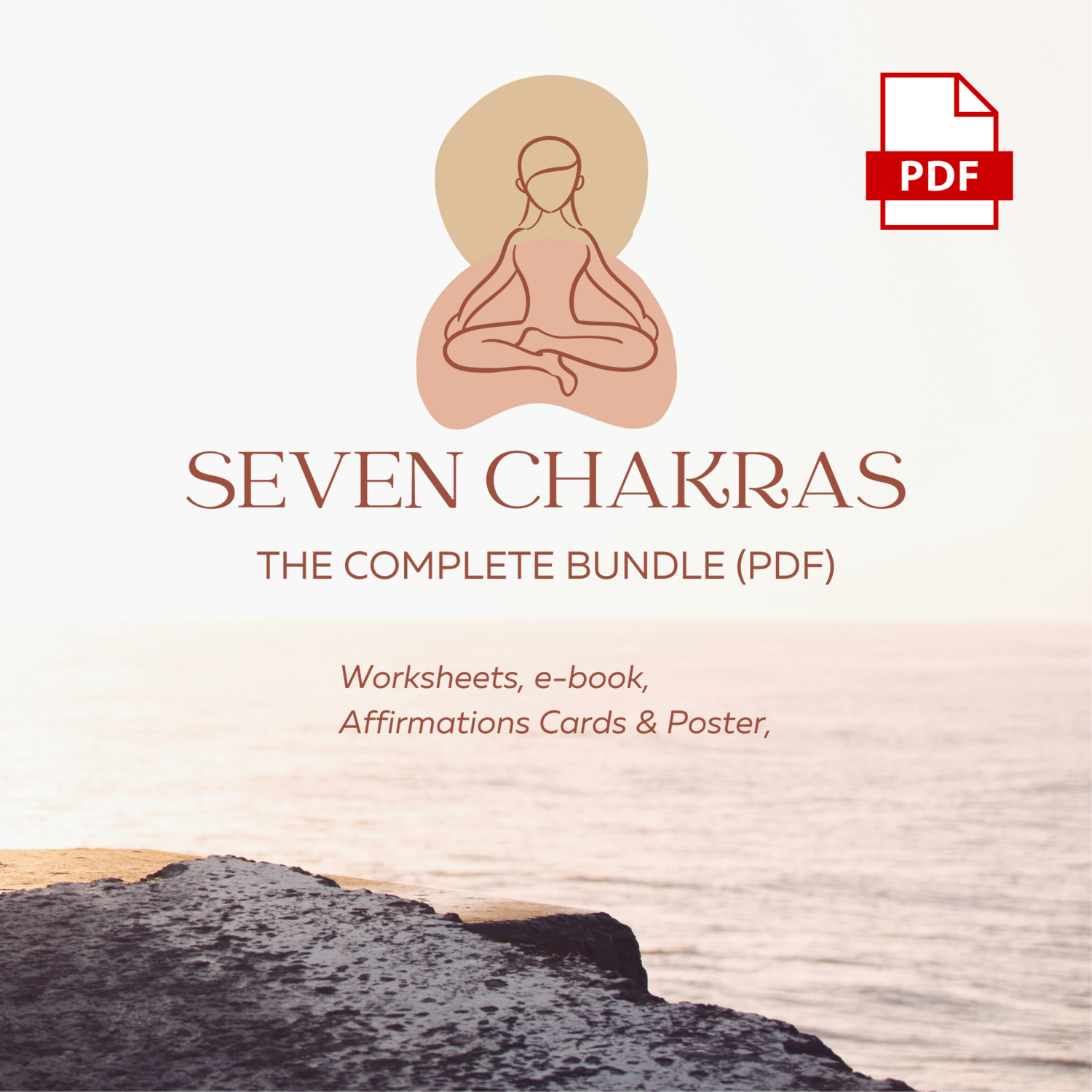 ALL-IN-ONE CHAKRA BUNDLE ~ WORKSHEETS, E-BOOK, CARDS & POSTER
0001
This product (PDF) contains chakra worksheets, chakra affirmation printable posters, and the 99-page chakra e-book
Product Details
Download all chakra digital files packed in one bundle.
The chakra bundle contains the following items:
Seven Chakra Alignment Worksheets (PDF/Printable file).
Awakening The Seven Chakras (E-Book – 99 Pages, Formats: PDF, EPUB, MOBI, AZW3).
Seven Chakra Card Set (PDF/Printable).
Seven Chakra Affirmation Poster (PDF/Printable).
DIGITAL FILES ONLY. INSTANT DOWNLOAD – No physical print will be sent to you. You will receive digital files only.
** Please note that this download is a ZIP archive. If you're downloading it on iPhone or iPad, you need to first download and install the iZip App on your device. It's a free app.
Chakra worksheets PDF is an excellent journaling resource that brings awareness to your physical, emotional, and spiritual aspects
A lot of thought has been put into designing this product, and the nature of the questions enables you to contemplate, reflect, and release deep-seated fears, troubling emotions, and the innermost self-limiting beliefs.
The Complete Chakra Alignment Bundle
This digital product (PDF) contains chakra worksheets, chakra affirmation printable posters, and the 99-page e-book – Awakening The Seven Chakras.
The chakra worksheets and the e-book will help you:
Assess and understand the problematic areas (both physical and psychological)
Help you understand the symptoms of your energy blockage.
Heal all the chakras (removing the energy blocks) using the visualization techniques mentioned in every worksheet.
The information guide will provide you with the resources required for chakra alignment in one complete document.
Enable you to keep track of your chakras by periodic journaling.
I have included a simple visualization exercise at the bottom of each chakra worksheet to help you activate the corresponding energy vortex.
Chakra Affirmations
The chakra affirmations printable poster is a beautiful collection of seven chakra affirmations: root chakra, sacral chakra, solar plexus chakra, heart chakra, throat chakra, third-eye chakra, and crown chakra.
The poster can be placed in your bedroom, living room, dining room, entrance, or meditation room. Rid your spaces of negative energy; the affirmations will keep you calm and positive.
★ Chakra Affirmation Printable Poster Contains
Five powerful affirmations for each chakra.
Sanskrit name is written in English.
Chakra symbol image.
The posters are bundled in a ZIP file that contains five high-resolution printable PDFs. The sizes include:
24×36 inches
18×24 inches
11×17 inches
A4
US Letter
Chakra Information Card Set
The chakra information card set has seven printable PDFs containing seed mantra, Sanskrit name, affirmations, yoga poses, symbols & crystals.
★ Each Chakra Information Card Printable Contains
Powerful chakra affirmations.
Chakra seed mantras (In both English & Sanskrit).
Chakra symbol, location, gland, and functions.
Symptoms of chakra imbalances (Including physical symptoms).
Yoga poses for chakras with illustrations.
Chakra balancing crystals.
A complete step-by-step meditation.
Instant Download
Please note, this is a DIGITAL DOWNLOAD – allowing you to print the artwork yourself, saving on time and shipping costs.
NO PHYSICAL PRODUCT WILL BE SENT.
How will I receive the files?
After you complete your purchase, you will receive an email notification that your digital download is available. The email will show your order details along with a list of download items. Just clicking on the download link will download that particular item.
If you have created an account with us, you can also log in to the website by clicking on the My Account link, and all of your purchased items (downloads) will be available under the Download section.
Delivery
Your files will be available to download once the payment is confirmed. If there's an issue, please contact us.
Refund Policy
7-Day 100% Money Back Guarantee – Though I'm sure you won't need to, if you don't like the product, email me (on the contact page) within 7 days of purchase, and I'll refund you the full money.
Please Note
Colors may vary by printer.
Please feel free to reach out for any queries, suggestions, or clarifications.
Save this product for later